CURRENT UPDATE:
Cedo's Falafel and Gyros is

OPEN FOR TAKE OUT & DINING IN

.



We encourage you to

call ahead @ 503-719-7344

for Take Out and large orders.

WE ARE

OPEN TUESDAY thru SATURDAY

ONLY

.

We continue to

serve the best gyros and falafels in Portland. We are a family-owned restaurant creating amazing Middle Eastern food from recipes handed down generations

. Thanks for your support.
---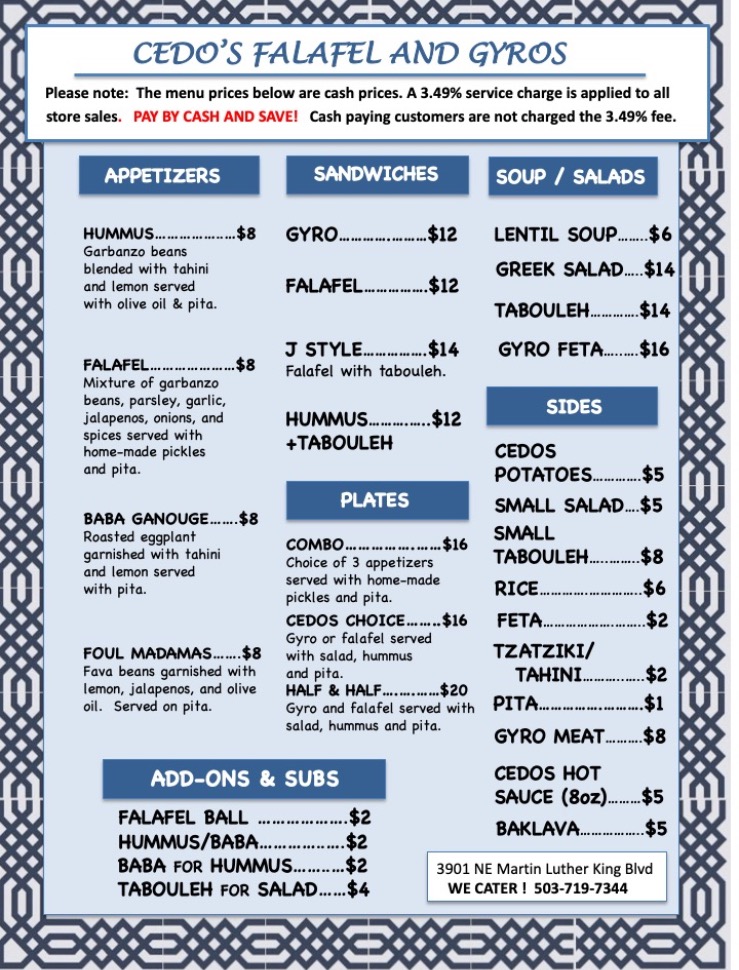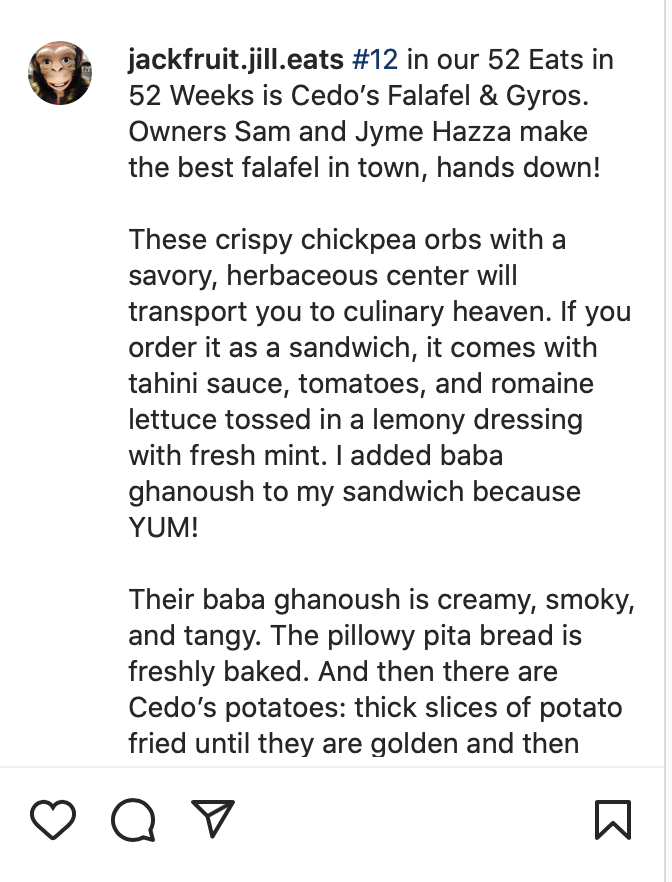 Hours
Monday CLOSED
Tuesday 11:30am - 6:00pm
Wednesday 11:30am - 6:00pm
Thursday 11:30am - 6:00pm
Friday 11:30am - 6:00pm
Saturday 11:30am - 6:00pm
Sunday CLOSED
Our Reviews
*
-- The best Falafel I have ever had was in Jerusalem. However, Cedo's is the best I have found by far in the states. The Gyro was also delicious and huge. I took half of it home and ate the 2nd half the next day. I was pleasantly surprised that it wasn't soggy and just as delicious.
-- The best gyros in town! I had a meeting nearby today so decided to see what the hype's about. I'm so glad I popped in. The staff was super friendly, and made me feel welcomed. I had the classic gyro, and I'm still working on it hours later! It's a huge gyro, so be prepared! The meat filling and veggie toppings were excellent. The yogurt and cucumbers added a nice tang and crispness to the wrap.
-- To say this is the best Middle Eastern food in the Pacific Northwest may sound like hyperbole​, but believe me, it is a joyful culinary experience​ that will energize your taste buds, leave you satisfied and bring you back for more.
-- This is one of my all time favorite places to eat in Portland. Family run business and some of the best food you can get. I'd give 6 stars if I could :)

Source: WW Guide to Portland
"The mismatched throngs overtaking Cedo's each lunch hour await tastes of Palestinian native Sam Hazza's super fresh hummus and lamb gyros. Even westside carnivores swear by that first bite of the falafel sandwich when the crackly golden exterior of the house-ground and toasted coriander seeds give way to a lush, verdant chew. Order "J" style for a straight out of Jerusalem kick sparked by tabbouleh and fiery red sauce."
Source: Portland Monthly Magazine Online
"Cedo's taunts passersby with hummus so creamy you could backstroke through it, served with a grand mound of fresh garbanzo beans. And that's just the start. Chickpea perfectionist and Palestine native Sam Hazza soaks his garbanzo beans overnight, toasts and grinds his coriander by hand, and cultures his own yogurt to create the city's best falafel, its nutty, cumin-dusted fissures doused in a lemony tahini sauce and packed in soft pita. At its core, this is a mom and pop shop with the feel of Old City Jerusalem."
Source: Portland Mercury Online
"First in the offing is the doner gyro sandwich. Unlike most of the joyless versions around town, this bountiful item overflows with juicy, springy, thick sliced and well-seasoned beef and lamb meat. It is dressed with wedges of tomato, lettuce, and a tangy tzatziki applied with such generosity that approaching the item seated is the wise course of action. Warm, grilled pita holds the moist payload securely to the end, which is impressive given the amount of time needed to eat it. Happily, the meat is nearly greaseless.
The falafel balls are crisp and fragrant, and into their mix of garbanzo beans, parsley, and garlic, Cedo's adds finely minced jalapeños, though the benefit of this is not noticeable spice but rather fuller flavor—it is nothing for the spice-wary to fear. Crisp and fried to order, the falafel are then dressed with the same ingredients as the gyro; the sandwich is as formidable as its meat-heavy counterpart. A second vegetarian sandwich of dolma (the menu lists these as "grape leaves"—their house-made version is filled with rice, tomatoes, parsley, and spices) and a generous slather of hummus—is a creamy and flavorful combination I haven't seen elsewhere. Residual sweet tomato sauce from the braising of the leaves enriches the taste, though after a bit it seems to want a crunchy element against which to chew the filling.
In terms of overall value for money, quality, and flavor, Cedo's is a yardstick against which all similar offerings can be fairly measured. Whether you're distraught over your career prospects or simply in the market for an excellent and affordable lunch, their Middle Eastern fare is a solid bet."